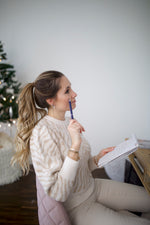 New Year's resolution yes or no?
A few words about 2021…

I always feel that at the beginning of a new year there's so much pressure. Everyone is talking about goal setting, achievements and resolutions for the New Year. That's why I broke up with the New Year's-something. Instead I found my own way how to approach the 12 months ahead. 

I prefer to set a word for the year that accompanies me and that reflects my actions. Last year's word was being courageous and here's what I did:
I traveled alone (before the lockdown came)

I went to a networking event (my first)

Had a spontaneous pitch about my startup idea in front of a couple of hundred people

Developed my own product and last but not least;

I founded my own company
These were some major achievements but I also had a few smaller personal wins. I feel that it was a good way for me so this year I'm going to do the same. The word for 2021 (there are actually 2, well 3 if we want to be precise) is:
Being grateful - for all the small and big things in life every day
Being patient and trusting more - not forcing, not rushing, just believing in life's path
Do you have a word for 2021?